United Guitars Vol.4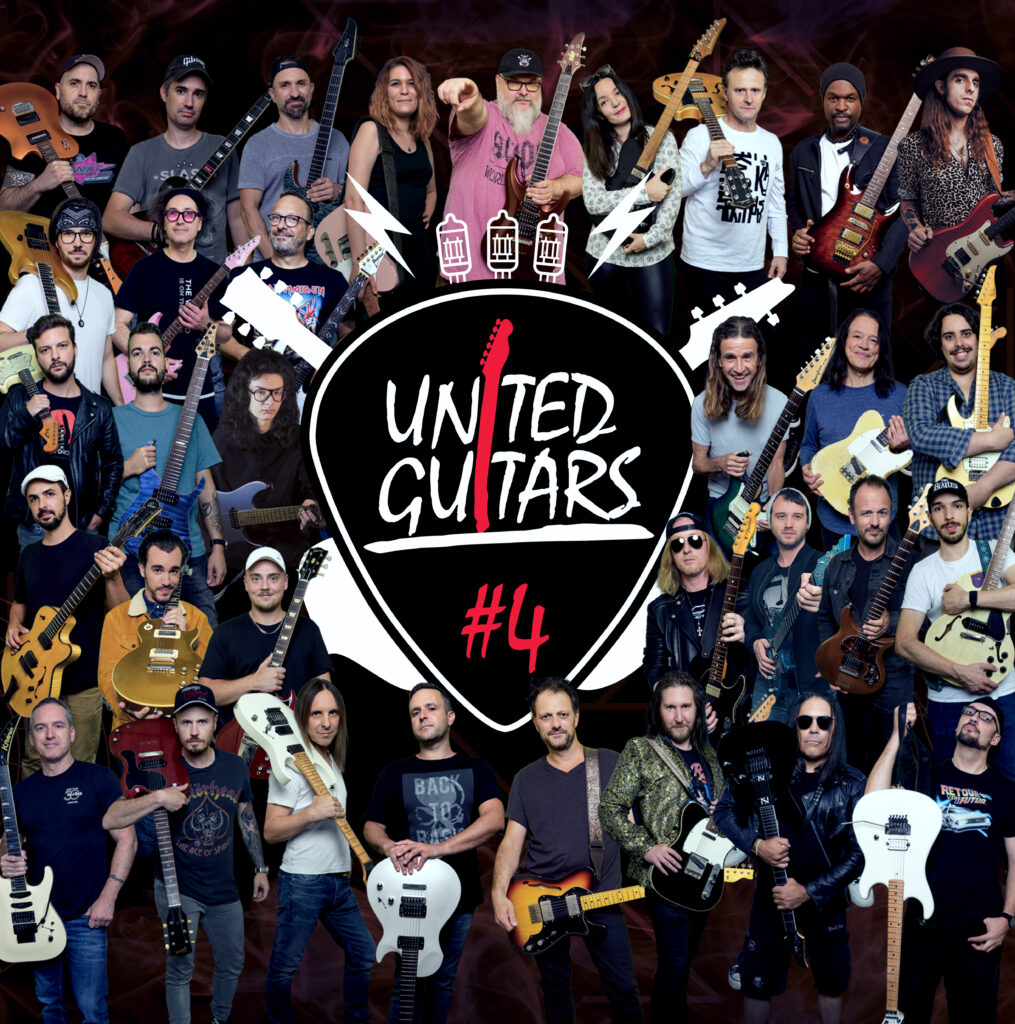 CD 1
1 – Plug-In 
(Jean-Marie Ecay feat. Robben Ford & Nico Chona)
2 – Stay Real 
(Mat Ninat feat, Jessie Lee Houllier & William Remond)
3 – Lagu 
(Alexis Didier feat. Robben Ford & Seb Chouard)
4 – Starry-Eyed Dreamers
(Ludovic Egraz feat. Max Ostro & Nico Chona)
5 – Blood Cell 
(Anouck André feat. Alex Cordo & Yvan Guillevic)
6 – Life Is A Clock 
(François Tuphé feat. Niko Slash & William Remond)
7 – Timelapse 
(Marwan Boulaïd feat. Sylvain Luc & Anouck André)
8 – Chimera 
(Valzore feat. Nick Johnston & Charly Sahona)
9 – Kaiju Wars 
(Richard Daudé feat. François Tuphé & Régis Savigny)
10 – De l'aube et du soir 
(Alex Cordo feat. Ludovic Egraz & Yann Negrit)

CD 1
1 – Grand Canyon II
(Sylvain Luc feat. Romain Pilon)
2 – Don't Call the Police
(Romain Pilon feat. Marwan Boulaïd & Jean-Marie Ecay)
3 – Dance With the Butterfly
(Yann Negrit feat. Richard Daudé & Saturax)
4 – Duality
(Charly Sahona feat. Youri De Groote & Tom Abrigan)
5 – Heaven Sent Hell Away
(Tom Abrigan feat. Max Ostro & Valzore)
6 – Electra
(Seb Chouard feat. Saturax & Régis Savigny)
7 – Les contemplations d'Icare
(Théo Cormier feat. Mat Ninat & Alexis Didier)
8 – King Kong Big Balls
(Saturax, François-Charles Delacoudre, Stéphane Boutinaud feat. Niko Slash, Olivier Back, Arnaud Bascunana & Nym Rhosilir)
9 – Back to Life
(Tanguy Kerleroux feat. NeoGeoFanatic & Tanguy Kerleroux)
10 – Haunted
(Youri De Groote feat. Nick Johnston, NeoGeoFanatic & Nym Rhosilir)
Lorsque nous nous sommes lancés dans ce projet un peu fou en 2019, tous les voyants n'étaient pas forcément dans le vert. Nous n'avions pour nous que notre passion sans borne pour la musique « orientée guitare », beaucoup d'énergie, une certaine expertise en matière de production, ainsi qu'un carnet d'adresses garni de gens talentueux. Tout le cheminement qui nous a menés jusqu'à l'enregistrement et la sortie du premier album a été pour le moins irréel. Enregistrer un double album en une semaine dans un beau studio avec autant de musiciens ? De la musique instrumentale orientée guitare ? En filmant toutes les sessions ? Autant vous dire qu'ils étaient nombreux à nous prendre pour de doux rêveurs, voire pour des fous (et sous certains aspects, peut-être avaient-ils un peu raison). Pourtant, nous sommes en 2023, et aussi incroyable que cela puisse paraître, vous tenez dans vos mains le quatrième chapitre de cette odyssée United Guitars. Cette nouvelle photographie d'un vivier guitaristique français en pleine effervescence affiche une large diversité qui constitue depuis le départ notre ADN. Les guitaristes légendaires se frottent aux éléments les plus prometteurs de la nouvelle génération, quitte à parfois se mettre en danger, car le niveau atteint aujourd'hui des sommets vertigineux de musicalité et de virtuosité. Les univers se télescopent et, si au détour de deux sessions, une sommité du jazz se retrouve à prendre le café avec un YouTubeur assoiffé de metal, le courant passe toujours, car les différents idiomes musicaux se rejoignent autour d'un amour commun pour ce jeune instrument qui, décennie après décennie, s'est enrichi auprès de tant de courants et de cultures. Cet esprit United Guitars résonne chez tous les die-hard fans de guitare, même au-delà de nos frontières, puisque des musiciens de tous horizons se mêlent à cette « french touch ». Après Gus G., Rick Graham, Doug Aldrich, Frank Gambale, Popa Chubby, Mark Lettieri, George Lynch et Tora Dahle Aagård, ce sont cette fois Robben Ford, Nick Johnston et Max Ostro qui nous transportent en apportant leurs contributions aux compos de nos artistes. Nous espérons que cet album vous apportera autant de bonheur que nous en avons eu à le créer et que ces guitaristes vous feront rêver et vous inspireront. Comme à chaque fois, une petite nouveauté s'immisce, avec ici un titre chanté, mais toujours gavé de guitares. Une ouverture pour la suite ? Who knows ! En attendant : Let there be guitars !

Voici le line-up de ce nouvel album :
– Robben Ford (artiste solo)
– Nick Johnston (artiste solo, Archival)
– Sylvain Luc (artiste solo)
– Max Ostro (artiste solo)
– Jessie Lee Houllier (Jessie Lee & The Alchemists)
– Jean-Marie Ecay (artiste solo, Billy Cobham)
– Seb Chouard (sideman, County Jels, Les cochons dans l'espace)
– Valzore (Artiste solo, The Electric Barock Quartet)
– Nico Chona (Nico Chona and The Freshtones, chaîne YouTube Tone Factory)
– Richard Daudé (artiste solo, chaîne YouTube Amazing Rare Footage)
– Régis Savigny (sideman, Ostande)
– Tom Abrigan (artiste solo, Sunbeam Overdrive)
– Alexis "Mr AL" Didier (Jessie Lee & The Alchemists)
– Charly Sahona (artiste solo)
– Saturax (ariste solo, chaîne YouTube Saturax)
– Anouck André (artiste solo, sidewoman)
– Romain Pilon (artiste solo, trio Jeff Denson, Romain Pilon, Brian Blade)
– NeoGeoFanatic (ADX, Hardbreak, chaîne YouTube NeoGeoFanatic)
– Ludovic Egraz (artiste solo, rédacteur en chef du magazine Guitare Xtreme)
– Youri De Groote (artiste solo, démonstrateur Roland/Boss)
– Théo Cormier (artiste solo, sideman)
– Arnaud Bascuñana (Cylew)
– Alex Cordo (artiste solo, The Electric Barock Quartet)
– Niko Slash (chaîne YouTube Niko Slash)
– Marwan Boulaïd (artiste solo)
– Tanguy Kerleroux (Youtubeur, groupe Hardbreak)
– Nym Rhosilir (artiste solo, chaîne YouTube Nym Guitarist)
– Yvan Guillevic (Heart Line, démonstrateur Kelt Amplification)
– Yann Negrit (artiste solo, guitariste de live et de session)
– Mat Ninat (artiste solo, Mat Ninat Studio)
– François Tuphé (artiste solo)
– Wiliam Remond (artiste solo, 58 Shots )

Rythmique :
– Stéphane Boutinaud et Davy Honnet (batterie)
– François C. Delacoudre et Bruno Ramos (basse)
Cette année encore, nous remercions chaleureusement les nombreux partenaires (marques, artisans, distributeurs, médias…) qui soutiennent le projet United Guitars en étant à nos côtés… et comme qui dirait, à vos côtés également ! Grâce à eux, notre tombola matos géante prend encore plus d'ampleur !! Un grand merci donc à :
Savarez Strings, Filling Distribution, Vola Guitar, Guitares Novo, Tocxic Instruments, Fred's Guitar Parts, Ibanez Guitars, Kramer, Solar Guitars, De Leeuw Guitars, Guitare Village, Two Notes Audio Engineering, Maestria Guitares, Kelt Amplification, PMC Guitars, Guitares Benoît Guilbert, Jaag Guitares, Guitar Pro (Arobas Music), Riki Le Plectrier, KMG Guitars, BlackFire Pickups, Scribaux Amps, Thrilltone Effects, Earbay, Anasounds, Keyztone, Dominger Custom Pickups, Bruzz Metal Work , Invaders Amplification, SP Custom, Marceau Guitars, Dewitte Wired, Skull Strings, Doc Music Station, Armonics France, Kernom, Dolmen Effects, Lighthouse Pickups, HepCat Pickups, Electric Wood Company, Cecca Pickups, ALH Effects, Audiolithe, DasViken , Mat Ninat Studio, Kris Viala, Studio 180, Val Martins, AmpsGuitarShop, Luthier Boissière, Sabelya Effects, LNA Effects, Wild Custom, Constant Bourgeois, Versoul Guitars, Asyllum Pickups, Collision Devices, Euterpe Pickups, Rocking Care, Perfecto Music, Blackdust Guitar Straps, Guitaristes Officiel, Guitare Xtreme, Batterie Magazine, Bassiste Magazine et Guitare Sèche, Le Mag.
Nous sommes fiers et heureux de vous livrer ce troisième album.
Let there be guitar !